Dentist in Miami, FL
All our professionals at Richard C. Lage, D.D.S., P.A. maintain the highest levels of accreditation and pursue ongoing education to stay abreast of the latest trends in dentistry.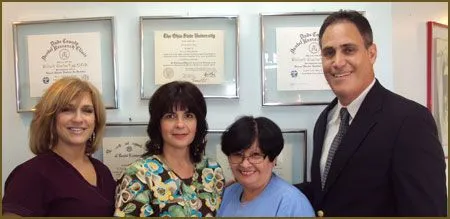 Maria Menendez, Aida Alfonso, Fe Justo , Dr Richard C Lage
---
Richard Lage
Dr. Lage was born in Miami and attended Immaculata-LaSalle High school. Upon graduation in 1976 he attended Miami-Dade Community College and was awarded an Associate in Arts degree in 1978. He then attended the University of South Florida in Tampa, Florida and in 1981 was awarded a Bachelor's of Science degree in Chemistry, graduating in the top ten% of his class and also obtained a minor in Chemical Engineering. In 1981 he was accepted to The Ohio State University and earned a Doctors of Dental Surgery degree in 1985. After graduating dental school he was accepted to a two year residency position at the Dade County Dental Research Clinic and the University of Miami at the Jackson Memorial and the Veterans Administration Hospitals where he obtained full clinical instructor status and was awarded a teaching certificate from the state of Florida.

During his training, Dr Lage was introduced to over 250 of the top dentist and surgeons in Dade County and became proficient in most of the dental disciplines. In his tenure, he was instrumental in training over 200 dental assistants and many are presently representing the profession in the local community. After completing his residency in 1987~ he went into private practice but kept teaching until 1993. Dr Lage has been very active in the local dental community and has been involved in training of subsequent dental residents and assistants. He is presently a dental consultant for one of the largest Medical HMO in Dade county. He has been awarded many awards for his participation in training of doctors and dental assistants, mostly in the 1980s and 1990's. He pertains to the American Dental Association, Florida Dental Association, South Florida Dental Association and the Dade County Dental Research Study Club.

He has volunteered treating may indigent children in the Thena Crowder Elementary School Dental clinic in Liberty City. He is active in the St Timothy Catholic Parish, S1. Brendan's Catholic and Palmer Trinity Schools. He has three wonderful children with his wife, Nury and have one lovely granddaughter. He has lived in the Kendall area of Miami for over 24 years. He is presently practicing in Miami and in Tavernier Florida. He enjoys his free time with his family and loves to fish and watch the local sports teams.
Nury Lage:
Nury is Dr Lage's great wife and has been assisting him part-time in the office since 1991, They have three great children and one beautiful granddaughter. When not helping in the office she dedicates her time many community and PTA projects. She is also mortgage broker.
Aida Alfonso:
Aida has been with Dr Lage for 20 years. She is a wonderful person and is beloved by all who meet her . She is the office manger and is in charge of the daily office operation as in giving appointments and filing insurance claims. She is married to Robert and has two great sons.
Fe Justo:
Fe has been Dr Lage's assistant since 1987. She is Dr Lage's third and forth hands and assists him in all patient treatments. She has been a dental assistant for over 42 years and is married to a wonderful man, Carlos. She speaks daily of her two Maltese which she considers to be her children.
Maria Menendez:
Maria is a 1996 graduate on Miami Dade Community College Hygiene School and has been with Dr Lage since 1998. She is an excellent hygienist who is very concerned about our patients periodontal health and is constantly striving in improve the patients home care and basic preventive periodontal needs. She is married to Hubert and has two fantastic children.